At Skeletons in the Closet we always try to improve our work. Me in the pattern drafting department, and my husband when it comes to the hardware part of the work.
As you may know this year we have been working on new standard size corsets, couture shapes and historical examples. It was also time to review some of our standard size items. Not because they were bad, but just because there is always room to improve. We learn something every day after all! If we do no longer feel the need to improve or find better ways to do things, why continue. So with every corset I try to make a better corset than the last one I made.
The Heather Longline corset has been one of my favourite corsets. This probably is because it reminds me of the Edwardian corsets I love so much. When we started out creating the standard size version of the Heather corset in 2013 we decided to go for a bit of a conical underbust shape that gently sloped out to the hips. It has 5 panels on each side, a wide busk and 20 pieces of steel boning.
Here is a picture of the first Heather corset. Brocade coutil wil satin coutil boning casings.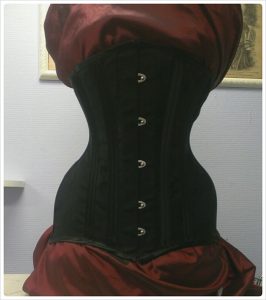 .
I decided to give the Heather corset a makeover. The first part of the makeover is that I wanted more of a cupped rib shape instead of a conical shape. A cupped rib shape allows for an easier cinch at the waist without too much compression at the ribs. There is also a little added room at the back to avoid spillage.
I also added more room in the hips. Combined with the cupped ribs this might mean that you can now go a size smaller than usual. Although it is a single layer corset, the corset is strong and you can achieve a 5-6 inch reduction should you choose.
We still make the corset out of a brocade coutil with satin coutil boning casings. For this example I chose the red and black rosebud coutil. My all-time favourite.
As finishing touch I added an inch at the back of the corset making it a more high back corset.
The corset still has the 30 cm long wide busk at the front to keep it flat.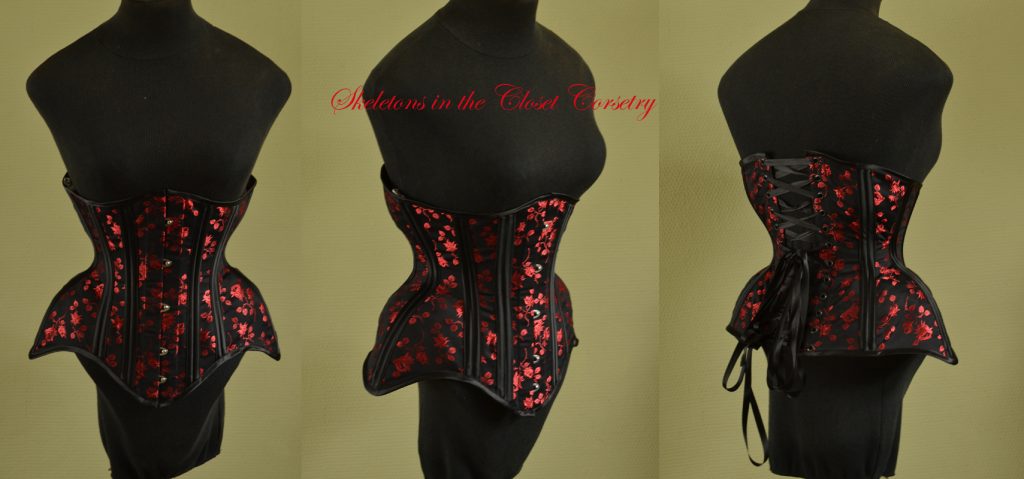 Here is the new standard size chart for the Heather Longline Corset. Of course made to measure will always be an option.
| | | | |
| --- | --- | --- | --- |
| Size | Underbust | Waist | Hips |
| 18 inch | 66 cm | 46 cm | 79 cm |
| 20 inch | 71 cm | 51 cm | 84 cm |
| 22 inch | 76 cm | 56 cm | 89 cm |
| 24 inch | 81 cm | 61 cm | 94 cm |
| 26 inch | 86 cm | 66 cm | 99 cm |
| 28 inch | 91 cm | 71 cm | 104 cm |
| 30 inch | 96 cm | 76 cm | 109 cm |
| 32 inch | 101 cm | 81 cm | 114 cm |
This corset will be available for order through the webshop from the 1st of September 2016. The price for standard size corset will be 295 euros excluding shipping. Now you know what to save up for!
All corsets are made by us in our atelier here in the Netherlands. This means that it is possible for me to change parts of the corset, to make it suit you better. For example if you prefer the conical rib shape, it is no problem to change that!
Here are the bigger pictures of the corset. The corset is also available as a ready to ship item in the webshop.