First of all, I would like to say that I do not believe in rules of fashion. You should wear what you feel comfortable with not what you are dictated to wear. If you like to wear skintight clothes, wear it. Like a baggy shirt, go with it. So if you ask me: "can I wear it?" my answer will be: "Why not!"
As a plus size girl myself I do love to wear a waspie on occasion. Some outfits just look better with a belt like corset, and sometimes I just need to be a bit more flexible that I can be with a longline corset. Having the hips free allows me more room to move.
And yet when a plus size girl asks if she can wear a waspie corset, usually the advice is to go for a longline.
Like I said before you should wear what you feel comfortable with. And therein lies the heart of the problem. Most waspies are not cut for the plus size woman. We larger women have more flesh to move around. And because of that one of the things that a plus size woman can have is overspill at the edges of the corset. This is caused by an underbust and hip size that is simply too small. General aesthetics tell us to not want overspill. Aesthetics might be one part of the reason not to wear a waspie when you have more to love, but the other part is comfort. Having a garment digging into you body is not exactly comfortable. And a corset should be comfortable.
One way to cover that problem is to wear a longline corset. Corsets with a high back are quite popular with a lot of people. However, as a corsetmaker I can tell you that just raising the back of a corset does not help to get rid of the overspill. Having enough room at the back of the corset does!
Your corset just needs to make room for the change in your body. The same goes for the hips. Is the hip too small the corset will dig into your belly/hips/bottom. Having enough room there, problem solved!
Now if you want smoothed out hips, a flat tummy and a completely enclosed feel of the corset a waspie might not be for you. After all a waspie only shapes the waist, not the hips. It is simply too short for anything else. It is all about what you feel comfortable wearing.
Here are some styling tips. As I said before, I do not believe in rules of fashion, but I can tell you how I am wearing my waspie today:
I am wearing a black long shirt with bell sleeves, Black Milk transparent pants and underneath it all I wear a shapewear bodystocking. To give my body a smooth line. Also I am wearing a bra with a large band size. After all what is the point of making sure your corset does not dig into your back, only to have a bra digging into it.
Over this outfit I am wearing my waspie. As you can see I have added more boning on the panels of the corset (the Skeletons in the Closet waspie usually has 14 bones, this one has 20) This to avoid wrinkling of the corset on the panels
Front: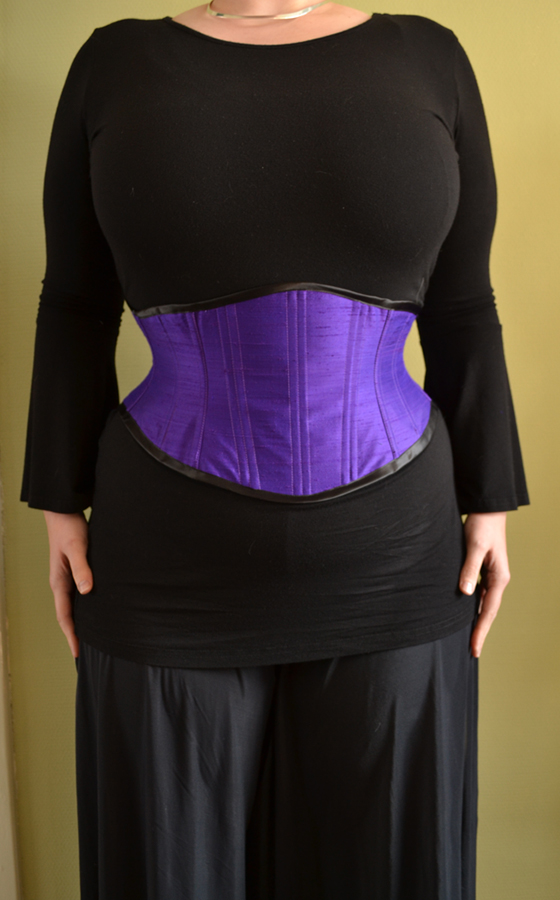 Side: As you can see I have a tummy, a waspie does not cover your tummy. After all it is a short corset.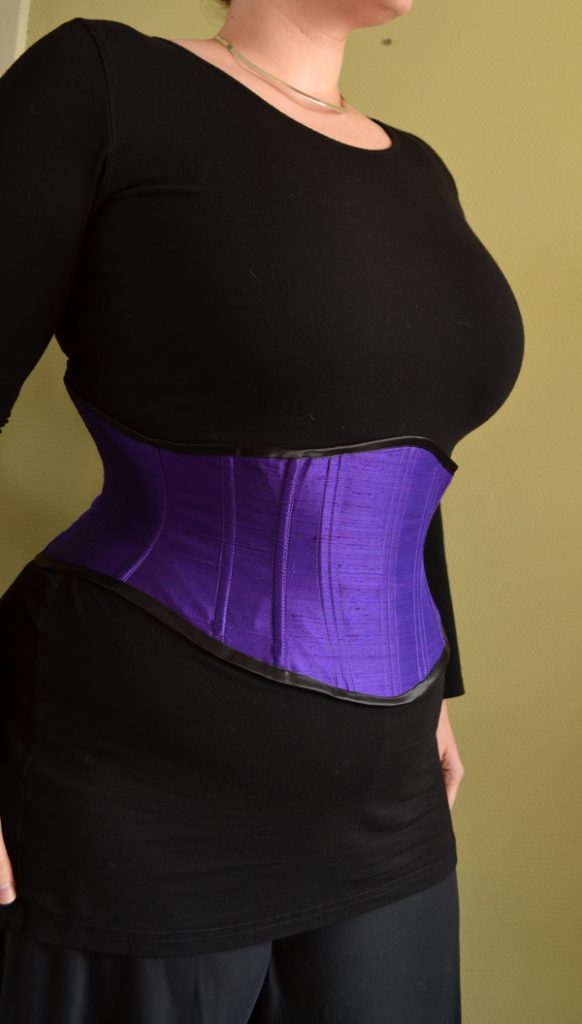 Back: Sorry for the dark picture, it is hard to take a shot like this with the selftimer.
It took us a while, but finally we are now making waspies available for sizes 30-36 inch too. I do recommend to choose the optional extra of getting a bit more boning in the corset, but it is not obligated.
As you may know, we are currently booked with custom orders until the 1st of September. The only exception being the waspies! So if you want a waspie now, please go to the webshop!
(spell-check by Lady Dinah;-))