20-08-2021 The Start
After a bit of a summer hiatus I am trying to get back into the swing of things. With covid and the lack of events and such my sewing-focus is at an all time low. Now I have learned about myself in the past years that sometimes I just need to start on a project and then the creativity will follow. To make myself follow trough with this project I decided to document it on the Blog.
A corsetry colleague of mine was selling a part of the corset making collection, including this ageless patterns version of a 1891 riding corset. I bought this from her in the hopes that it will rekindle my love for corsetry.
Since this is not a commissioned project I decided that it has to be made largely from my stash of fabrics. I have had this floral quilting fabric for ages, the lace is left over from a commission from some years back, and the velvet ribbon is also a left over stash piece.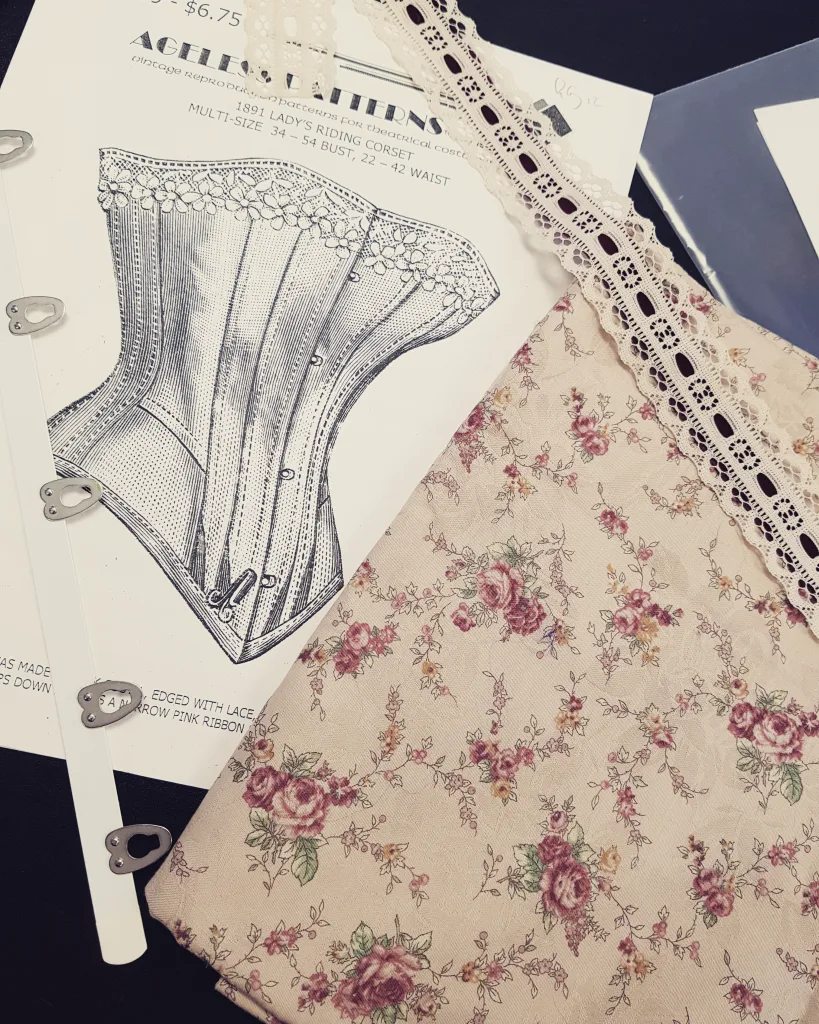 27-8-2021 – The pattern
If you have worked with Ageless patterns before you may know that the sizing is a little off at times. Ageless patterns takes patterns from historical sources and grades them. So the pattern is just as it was back then. They do add seam allowance.
The first thing I do when working with a pattern like this is taping together a paper version of it to just check the pattern pieces. I traced a size 26 inch. I chose this size because it is closest to my size. This way I have the option of keeping it if it does not sell.
Right away I notice that the front hip gusset is longer than the 2nd front piece. Now I have two options, I can add some length to the front pieces or I can shorten the gusset. The drawing from this corset shows quite a pointed look. Since I love this look, and human beings are generally longer now than they were 100 years ago, I decided to go for the lengthening of the front pieces.
Please note that I do allow comments underneath this blog post, if the amount of spam gets to high comments will be closed. You are of course allowed to ask questions, please note that with a full time job next to Skeletons it may take a while before I answer.