Here are some underbust corset I finished recently. They are all underbust corsets and yet they are all different. In both construction, materials and fit. I shall try to explain a bit about each corset and its construction method.
First a gold silk underbust corset. This corset has a coutil strength layer, as gold silk outer layer and a cotton lining with a print of Rembrands Nachtwacht. (the nightswatch by Rembrand is a painting that you can see at the Rijksmuseum in Amsterdam. It has internal boning casings and a blue lace applique on the front panel. The binding is hand finished. I made this corset because I had the silk left over from another project and it looked amazing with the lace. I did not have a lot of silk left so an underbust was all that was possible with this fabric. There are bones on both the seams and at the center of the panels. This keeps the corset nice a smooth.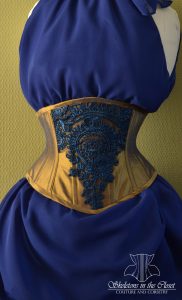 I made a blue shift dress to go with this corset as you can see in this photo from a photoshoot with Richard Terborg and Theresa, (this corset is available at the webshop)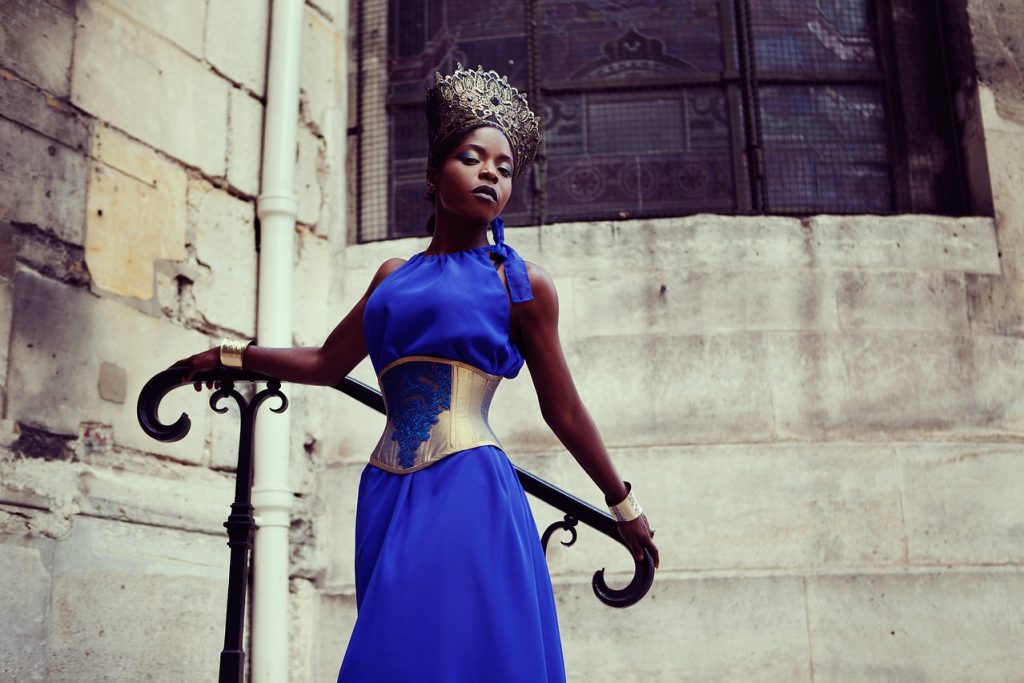 Next is a custom order from a beautiful lady who wanted a very short underbust corset. The corset is made with 2 layers of coutil. Embroidered external boning channels, and a black ribbon tape at the outside. This corset is hand finished. The external channels make sure that the inside is nice and smooth. I loved doing the embroidered channels, there are a lot more options on the sewing machine to make embroidered channels so if you want something like this let me know!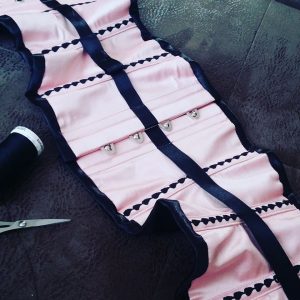 The extra layer of coutil makes sure that the corset is really strong. It is not necessary to have an extra layer of coutil, but if you like extra sturdy corsets it is always an option. The black ribbon at the waist is a nice little detail.
This mesh corset was a bit of a try out. A supplier of mine had a new narrow cotton bone casing and I wanted to see how it would look. So I made a very short, almost belt like, waspie corset. It has a red lace front panel and a satin coutil back panel. All flat steel boning. I did bend the side bones to make sure it would stay in the right shape.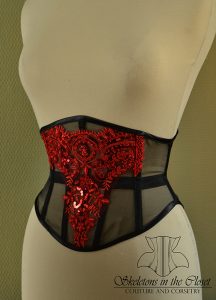 The edges of the mesh on the top and the bottom I first edge with cotton bias tape and over this goes the black satin bias. To make sure the mesh threads will not poke through.
(This corset is available in the webshop)
The hearts corset is the oldest of this set of corsets. I made if before Elfia in april.  It is made out of Italian silk taffeta, a black hand cut heart applique at the front and a floral cotton lining. It has internal boning casings. This corset has 5 panels per side and is quite curvy. All the boning casings are at the seam lines and at the center front.  Corset is available here.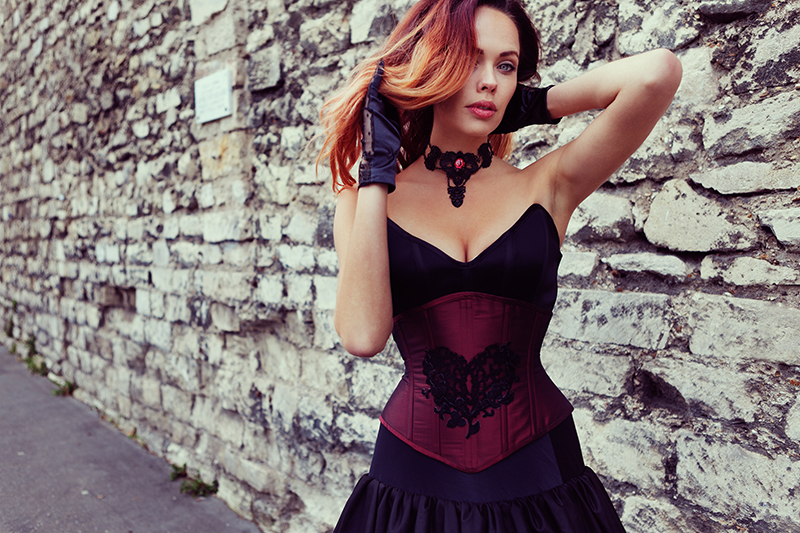 This purple brocade waspie is a larger size. I rarely make larger size samples because they always end up in my closet. This corset is made with a purple satin brocade fabric fused to coutil. It has satin coutil external boning casings and cotton internal boning casings. I chose to do both external and internal boning casings because I love the purple fabric. However if I put a lot of satin coutil external boning casings on the outside you would not see much of the fabric anymore. So the center front and side panels have a bone on the inside.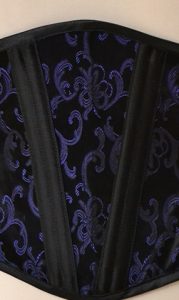 This corset has 25 bones for support of the corset to keep it smooth. The binding is machine finished. (This corset is available here)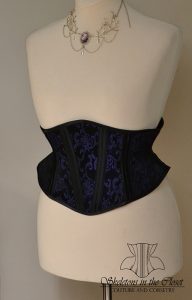 And last, another 4 panel per side corset. This corset is super lightweight. It is made out of satin coutil with external boning casings. It has a cameo on the front with a bird skull. It has steel boning and a waist tape. Satin coutil is a lovely fabric to make lightweight corsets with. It is smooth, shiny and strong. It also makes for great boning channels. Keeping such a lightweight corset with external boning channels makes sure that the inside is smooth.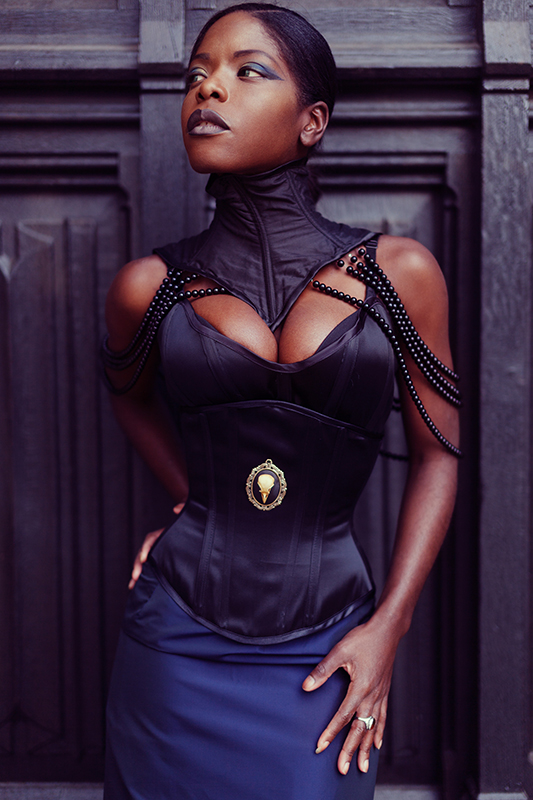 The corset has a cameo at the front. I just wanted to make something with a raven skull for a long time. The binding is machine finished. (this corset is also available in the webshop)
There you have it 6 different corsets, 6 different construction methods. All pretty. There are so many ways to make a corset and non of it is the only way. It just depends on how you want the corset to look, how sturdy you like your corset and of course what your budget is.
 If you are inspired to have your own corset made,  please contact me by email or using the order form.