Every year we (my husband and I) go to several costume events. We love to have a place to wear our pretty frocks and doll up completely.
Last Christmas (2015) Maarten said that he wanted a new military inspired costume. So there we were, at our Christmas brunch firing up Pinterest to see what we both would like. Maarten decided on a costume worn by The Duke of Cambridge, Lord Nelson. A Royal Navy uniform from about 1795-1812.
About this costume I will write a full article later in the year when it is completely finished. Because it is a super interesting costume.
When we go to an event, Maarten and I always try to somewhat match our costumes. Be it the same colours, or the same period, or the same style.
However, as you may have noticed, my main inspiration comes for the Victorian age. Hoop skirts, bustles, corsets I love it. The end of the 18th century is not my comfort zone. So I started doing some pinterest searches for myself.
There were two paintings I found that drew me. The unknown lady in a blue riding habit.  and this 1748 painting of Sophie Marie Gräfin Voss by Antoine Pesne
As you can see both inspirations are mid 18th century. They both have lovely colours and lots of lace and trimmings. If you have followed my work for quite some time you know I love elegant clean lines. I am not one to use a ton of lace, or lots of different colours. This time however I decided to get out of my comfort zone. I did not want to make a late 18th century ladies costume, because I could not find a example I truly loved. Except for the sleepy hollow gown, but that would not match with Maarten.
But there was a bit of a time limit. Maarten's costume took quite some time to finish and I had to make 2 wedding dresses. So I could not make a complete outfit. I had to scavenge and be creative. Luckely it so happens that I am quite creative.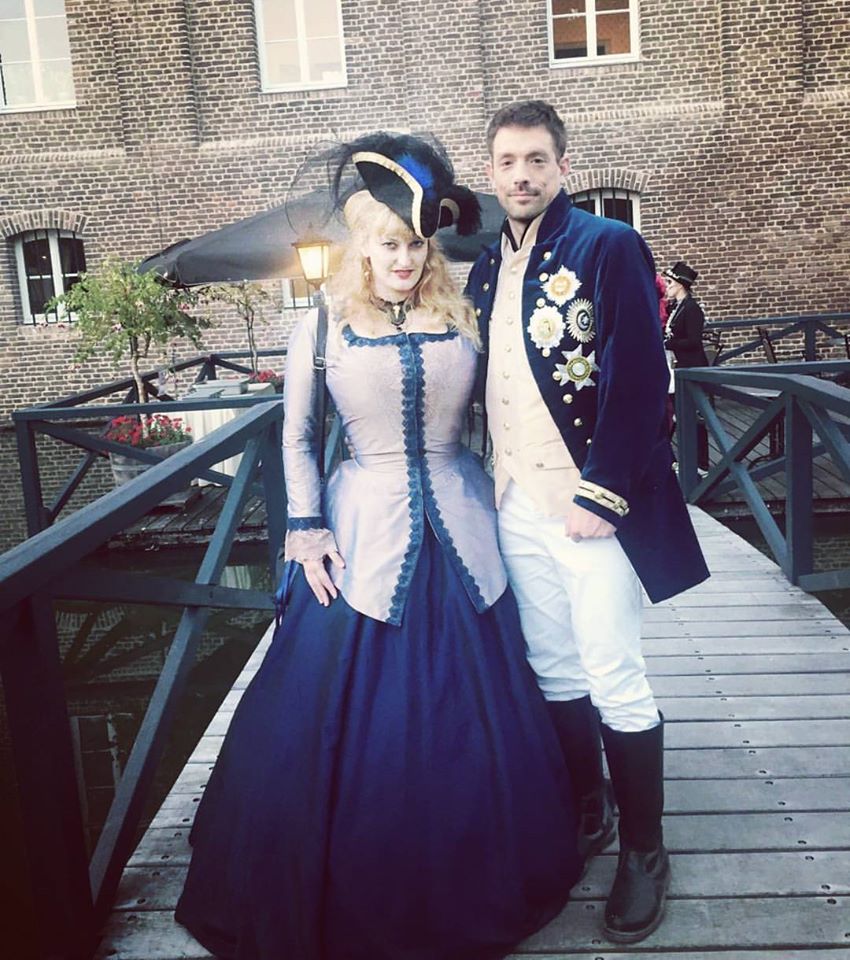 So I needed to be creative. I decided to wear a hoop skirt and a Victorian corset underneath the new gown. This because I just love that silhouette. A friend of mine gifted me with a lovely gold and blue silk, that matched amazing with my blue skirt. And I set out to make a 18th century style dress / jacket I could wear with this hoop skirt. As a base I used this  pattern, and drafted a dress I would wear over my Victorian corset.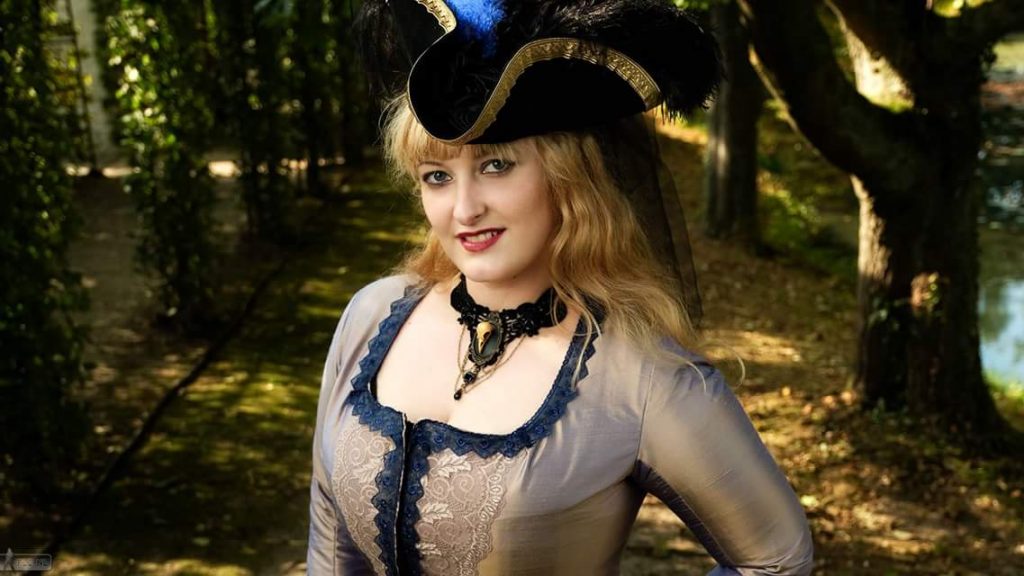 I finished it up with lace, and made a hat to match the pirate feel of the dress. The reason I wanted a big hat, is because a big dress makes your head look small and you need something to balance it out.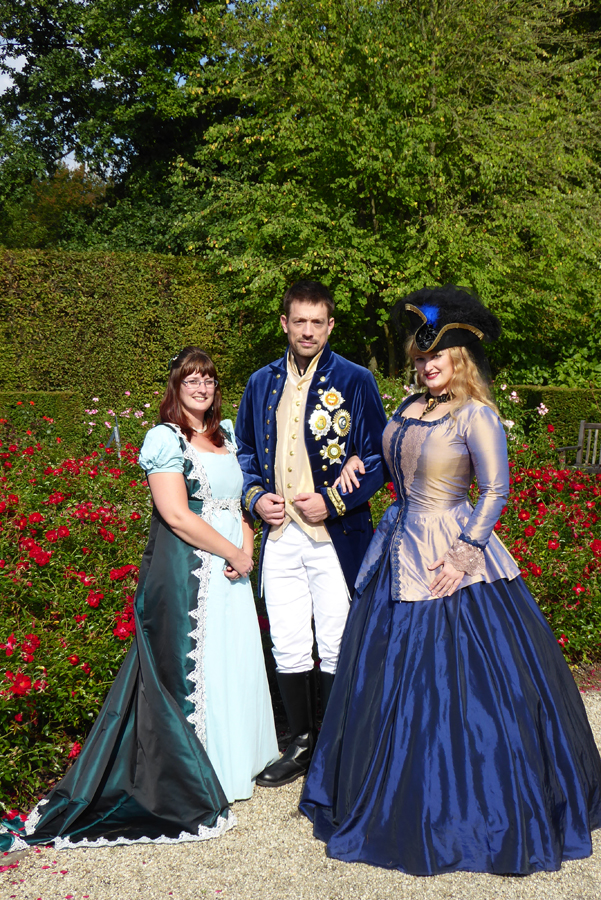 Now this outfit is by no means historical correct. In the future I shall make the right underpinnings and underskirt to go with the outfit for a more historical look.
But to be honest, I love it like this. I make historical inspired costumes. And although my strength is being able to interpret historical shapes and draft good patterns, I do not always make something 100% historical correct. I do love using modern techniques to put a costume together, and I really enjoy using history as an inspiration making something new. But I also enjoy making something completely historical accurate, like a replica of a museum corset.
If you want to have something unique, and you have a painting or historical figure that truly inspired you and you would like a costume to match, contact me. You do not need to have a cristal clear idea of what you want exactly. As you can see we can just use it as an inspiration and go from there!
History is a great place for inspiration, go to a museum, see the old example and use that inspiration for something new.